The reason we came up with classifications systems was to give humanity easy ways to learn and pass on important knowledge.
I think knowledge of family events is by far the most enriching part of anyone's education journey. And in a world of grouping and classification systems I found it confronting that we didn't have a repeatable, consistent and recognizable classification process to capture our most nourishing family knowledge. That is,  the knowledge of events and of people, places, keepsakes and the family legacies left (be they tragic, sad or good and inspirational).
The classification system outlined in Digital Dreaming is designed to place the Family Group at the top – with you – giving the soul to the family as a member of the group. This is opposite to the traditional family tree classification method that's designed for people. The benefit of having a family group is that by applying the six principles of the Family Group outlined in Digital Dreaming you'll gain a productive way to start thinking about your own Family Groups and how best to record your knowledge of important events and keepsakes using the knowing family formula.
---
Soul Assets Education Resource Please Share With Your Family
To support you in your grouping and sorting of your own family knowledge I've presented three info-graphic pins that illustrate the relationship of the Family Group Code (Process Step 1) and the Family Journal Event Code (Process Step 3) explained in Digital Dreaming.
What's your family group pin below?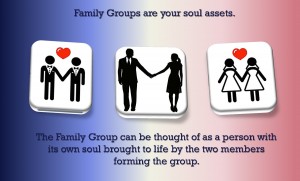 ---
I love grouping systems and I just love info-graphics. If you don't believe me check out my grouping system love'm board on Pinterest and Facebook.