Don't lose your family keepsakes, present them instead. Together let's organise and integrate your knowledge of family events for the digital generation.
Digital Dreaming is powerful and easy classification scheme that will keep your family knowing now and into the future.
Digital Dreaming preview of the Contents, Introduction and Back Cover
---
This slideshow requires JavaScript.
A knowing family is timeless and can use its knowledge to teach you where you have come from, what your family stands for today, and where it hopes you 'll be in the future.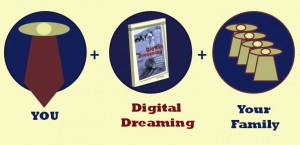 You, Digital Dreaming and your family can keep your stories. Learn more click on the formula above.
Your family story first, learn a new life skill to keep your knowledge of family events and keepsakes.

Shop online at:
---
Digital Dreaming E-Book Available as ePub, Mobi, and PDF files at the Balboa Bookstore (USD 3.99)
---
Digital Dreaming color softcover Available as a perfect bound softcover in 8.5 inch by 11 inch color illustrated (USD 35.99)
---
Digital Dreaming gives you, the reader, a valuable gift. A 5 Step Process that supports you to keep your family knowledge. Acquire the process illustrated in this book and you'll take ownership and enrich your belonging – your family dreaming – for future families to know.
To keep track of family and personal events is a life skill in the Information Age, because it's second nature for people to leave a large variety of digital and tangible keepsakes behind. This guide is written for families to know, and for those people who contribute to the family's soul through every stage in life:
♥ Engaged and newlyweds
♥ New parents
♥ The family forming years
♥ Singles and siblings in the family
♥ Empty nesters
♥ Retirees
♥ Children caring for one or both parents
KEEP Knowing